Dilworth Facial Plastic Surgery
1819 Lyndhurst Ave.
Charlotte, NC 28203
Phone: (980) 949-6544
Monday–Friday: 9 a.m.–5 p.m.

Eyelid Surgery
The eyes are the central focus of the face. They draw our attention and convey how we feel to those around us. Unfortunately, they are also often the first facial features to show signs of aging. Eyelid surgery, also known as a blepharoplasty, is a surgical procedure we offer in Charlotte, NC, for men and women who choose to rejuvenate their eyes and enjoy a more rested appearance that reflects how they really feel inside.
Through their collaborative two-surgeon partnership, Dr. Andrea Garcia and Dr. Josh Surowitz give the eyelids a revitalized and youthful contour while preserving a look that is uniquely and naturally you.
Eyelid Surgery
Before & After Photos
Case: 1 of 2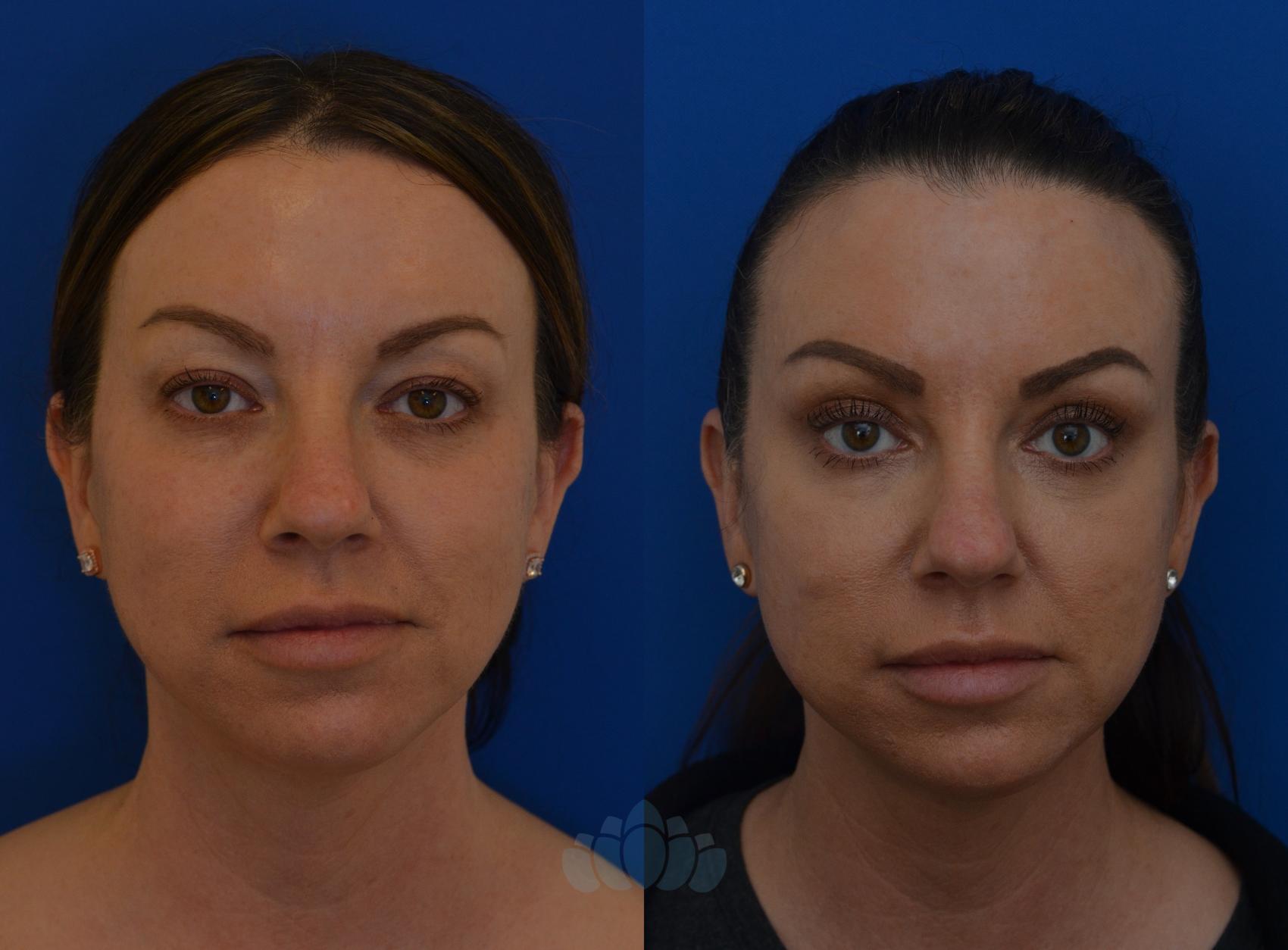 Case #8
Upper blepharoplasty, also known as an upper eyelid lift is used to address fullness and hooded skin of the upper eyelids. This lovely patient wished to refresh her upper eyelids. Skin and some muscle were excised and fat was sculpted to smooth out the areas of fullness. She is seen two weeks after surgery and is very pleased with... Read More
View Case Details
Request My Consultation
Keep in mind that each patient is unique and your results may vary.
Who Is a Candidate for Eyelid Surgery?
The ideal eyelid surgery candidate is looking to address signs of aging around the eyes, including:
Descent (drooping) of the upper eyelids
Fullness or bulging of the fat in the lower eyelids
Hollowing of the tear troughs, which appears as dark circles
These changes often occur with age, but they can also be hereditary and occur in younger people.
What Is the Difference Between Upper & Lower Blepharoplasty?
Depending on your goals, your procedure may include an upper eyelid lift, a lower eyelid lift, or both. Here's how they differ:
Upper blepharoplasty addresses drooping upper eyelids, sometimes even improving obstructed vision.
Lower blepharoplasty removes puffy bags and fills in hollow tear troughs as needed to create a smooth transition between the eye area and the cheek.
Both approaches involve incisions hidden along natural creases in your eyelids, leaving you with little to no visible scarring.
Many people also experience some sagging in the brows and forehead that adds to the look of hooded upper eyelids. Dr. Garcia and Dr. Surowitz may recommend addressing all of these concerns in one surgery by combining your blepharoplasty with a brow lift.
Meet Our Surgeons
Dilworth Facial Plastic Surgery combines the expertise of two dual board-certified, fellowship-trained facial plastic surgeons for unparalleled patient care. Dr. Andrea Garcia and Dr. Josh Surowitz offer a unique collaborative approach to facial plastic surgery, working as a compassionate and highly trained duo to bring out the very best in you.
Credentials You Can Trust

Why Choose Dilworth Facial Plastic Surgery for Your Eyelid Surgery?
Dual board-certified and fellowship-trained facial plastic surgeons, Dr. Garcia and Dr. Surowitz have dedicated their skills to performing cosmetic and reconstructive surgery of the face, eyes, ears, neck, and nose. As specialists in facial rejuvenation, they have comprehensive training in the subtle nuances of eyelid surgery.
Dr. Garcia and Dr. Surowitz have extensively studied the complexities of the eyes and their proportions in relation to the rest of the face. Their knowledge and years of experience with facial rejuvenation allow them to approach each patient as an individual with unique needs and desires. Our surgeons pride themselves on delivering long-lasting, natural-looking results and doing so with warmth, compassion, and a personal touch.
What our clients have to say

They are so good, I drove all the way from Atlanta, GA, to have this procedure done.

I am SO HAPPY with the results, and I'm so very grateful for the doctors that genuinely cared for me and fixed my eyelids! I do not look like I have "had work done," but instead, I look refreshed.

- M. Hamilton
What Is Eyelid Surgery Recovery Like?
Most people need about 2 weeks away from work and other activities to fully heal from eyelid surgery. It's normal to have some bruising, swelling, and tenderness around your eyes during this time. You can limit this by sleeping with your head elevated and applying ice packs as often as possible for the first couple of days.
Are There Nonsurgical Alternatives to Eyelid Surgery?
Surgery is typically the best way to lift the eyelids and remove puffy bags with long-term results. However, you do have several nonsurgical eye rejuvenation options:
BOTOX® Cosmetic: BOTOX smooths away crow's feet, frown lines between the brows, and can produce a subtle brow lift.
Dermal fillers: These injectable gels fill in hollow tear troughs and disguise the edges of lower eyelid bags.
These treatments also work wonderfully to enhance or maintain your blepharoplasty results after surgery.
How Much Does Eyelid Surgery Cost in Charlotte, NC?
The cost of eyelid surgery at our Charlotte facial plastic surgery practice varies from person to person depending on the complexity of the surgery, whether it is combined with other facial procedures, and other factors. At your private consultation, we'll provide you with a personalized pricing estimate.
Request Your Consultation
If you would like to meet with our Charlotte eyelid surgery specialists to learn more about rejuvenating your eyes, please request your consultation online or call (980) 949-6544.
A Reputation Built on Results
I came to Dilworth Facial Plastic Surgery for Botox and I am so happy I did!! Let me start off by saying,...
The entire staff at DFPS will take care of you from start to finish. The doctors give their undivided...
Simply the best Doctors in this area for facial plastic surgery. I had a very significant facial disfigurement...