Dilworth Facial Plastic Surgery
1819 Lyndhurst Ave.
Charlotte, NC 28203
Phone: (980) 949-6544
Monday–Friday: 9 a.m.–5 p.m.

Neck Lift
Well-defined jaw and neck contours are an important component of facial harmony. With time and the natural aging process, the muscles and skin of the neck become loose (neck bands), and often fat collects below the chin (the so-called "double chin") and throughout the neck. With a neck lift at our practice in Charlotte, NC, men and women from the Lake Norman area such as Cornelius, Huntersville, and Davidson; Lake Wylie communities including Tega Cay and India Hook; Belmont; Indian Trail; and other nearby cities can reverse these changes and restore a smoother, slender neck they feel confident about.
A neck lift lifts and tightens the tissues of the neck while removing and sculpting any excess fat to deliver long-lasting definition to the neck and jawline. Dual board-certified facial plastic surgeons Dr. Andrea Garcia and Dr. Josh Surowitz are masters in facial rejuvenation with a comprehensive understanding of the anatomy and years of experience in achieving natural-looking results.
Neck Lift

Before & After Photos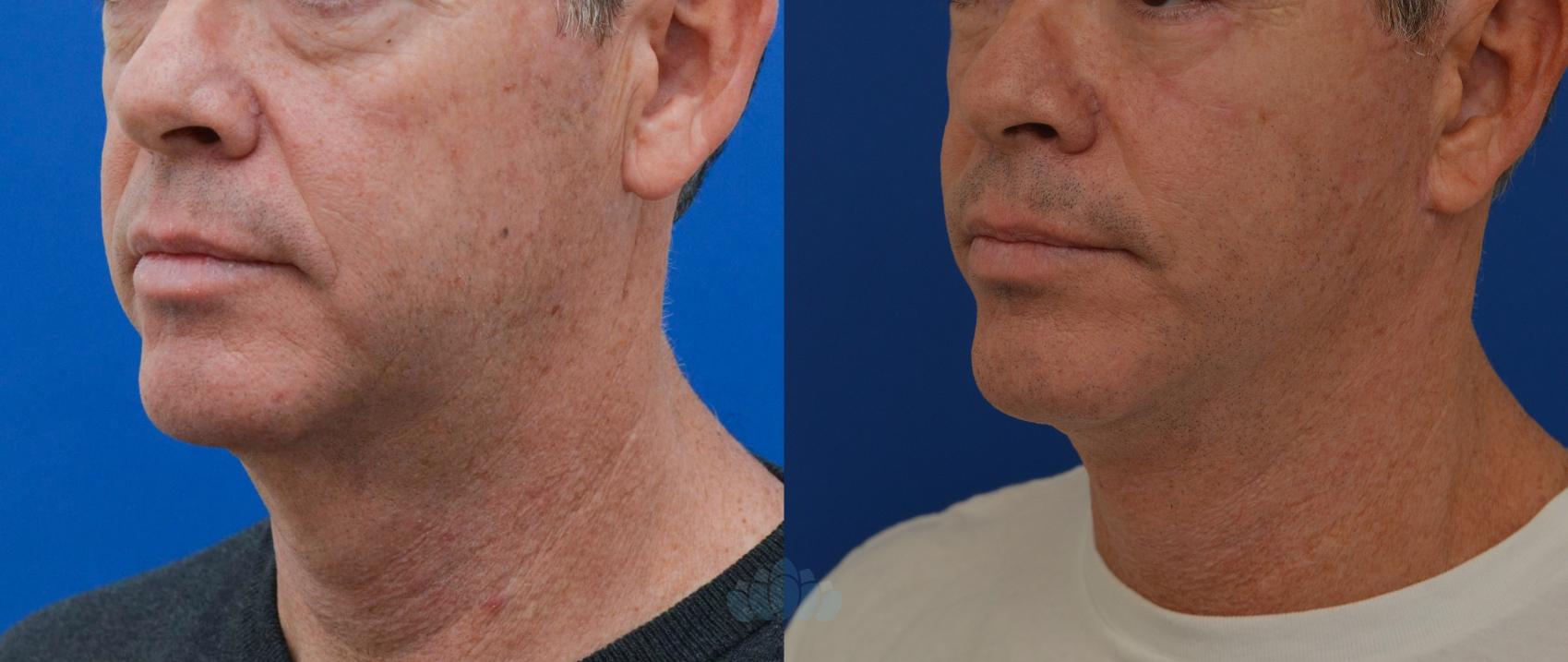 Necklift, Facelift, Upper Blepharoplasty, Lower Blepharoplasty, Otoplasty
This gentleman wished to address his facial and neck aging, upper and lower eyelid aging, and prominent ears. Dr. Garcia and Dr. Surowitz treated him with a deep plane face and neck lift, upper blepharoplasty (not shown), lower blepharoplasty, and otoplasty. He is very pleased with his natural results. Read More
View Case Details
Request My Consultation
Keep in mind that each patient is unique and your results may vary.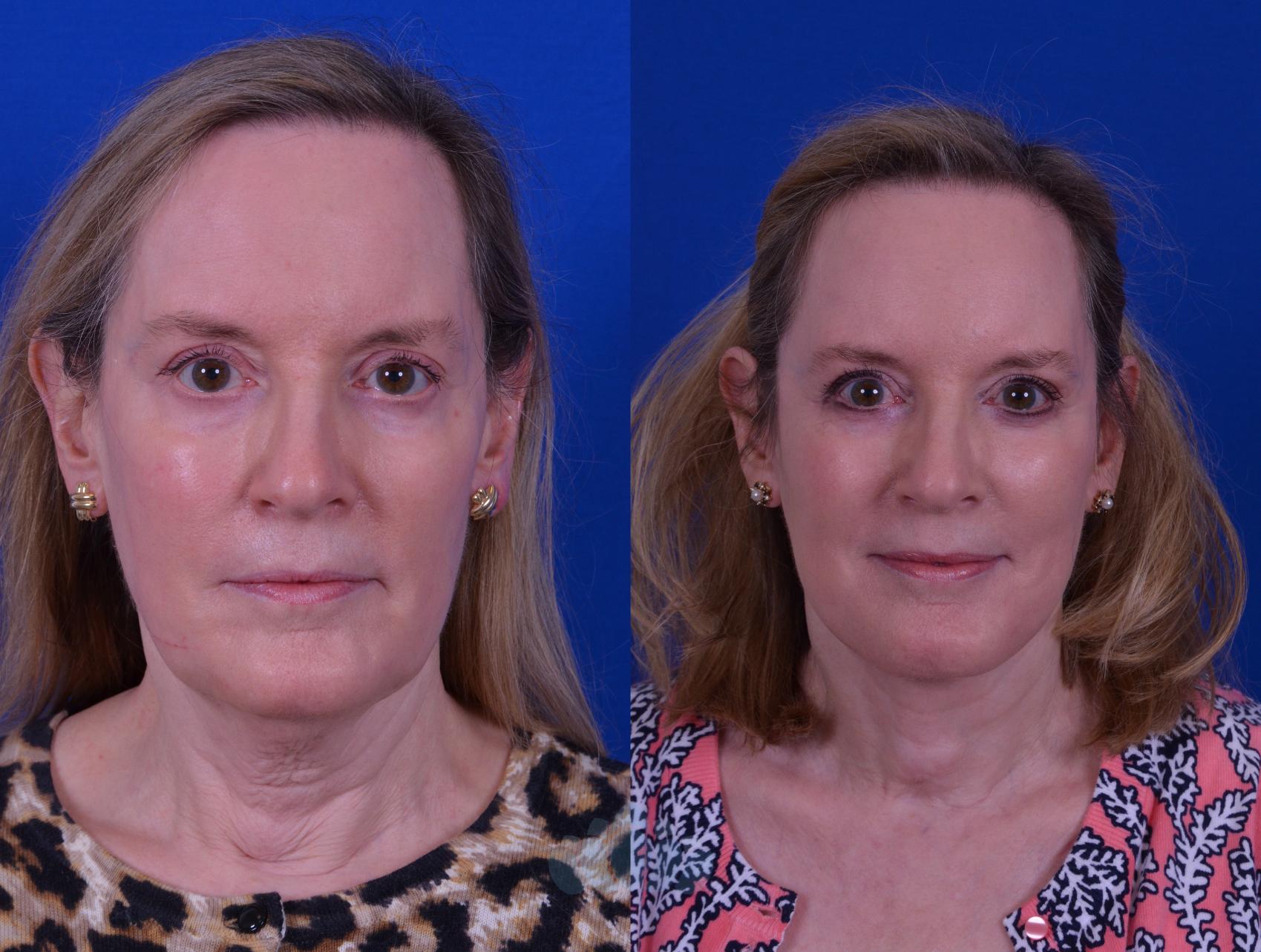 Who Is a Candidate for a Neck Lift?
Candidates who would benefit from a neck lift, also called central neck tightening, commonly notice:
Excess fat under the chin ("double chin")
Excess fat on the neck
Loose and sagging skin of the neck
Neck bands (platysmal bands)
To address these conditions, a neck lift surgery typically involves repositioning tissues, tightening lax skin and the platysma muscle, and precisely removing excess fat.
Do I Need a Neck Lift or a Facelift?
A neck lift is one of the key components of a facelift at our Charlotte facial plastic surgery practice. During facelift surgery, the tissues of the face and neck are simultaneously lifted and tightened. In many patients, a facelift (including a neck lift) is the ideal procedure to rejuvenate the lower face, jawline, and neck.
In some cases, the face and neck tissues are affected differently by the aging process, with less significant facial aging, more neck aging, and resultant disharmony between the face and neck. In these individuals, a neck lift will improve the contour of the neck, restoring harmony between the lower face and the neck. At Dilworth Facial Plastic Surgery, we focus on comprehensive facial rejuvenation, evaluating the entire face, and creating a treatment plan to deliver outstanding results.
How Much Does a Neck Lift Cost in Charlotte, NC?
Dr. Garcia and Dr. Surowitz will discuss the cost of neck lift during your consultation, when you can also get answers to your questions about the procedure and learn about alternate or complementary procedures that will maximize your results.
Meet Our Surgeons
Dilworth Facial Plastic Surgery combines the expertise of two dual board-certified, fellowship-trained facial plastic surgeons for unparalleled patient care. Dr. Andrea Garcia and Dr. Josh Surowitz offer a unique collaborative approach to facial plastic surgery, working as a compassionate and highly trained duo to bring out the very best in you.
Credentials You Can Trust

How Is a Neck Lift Performed?
Each neck lift begins with a consultation with Dr. Garcia and Dr. Surowitz to determine the best treatment option. In some cases, a full facelift (which includes a neck lift) may deliver the best results. Dermal fillers can enhance these results by adding volume to flattened cheeks.
Your outpatient neck lift procedure may be performed while you are under sedation or general anesthesia. Dr. Garcia and Dr. Surowitz will begin by making a small incision beneath the chin, behind the ear, and into the hairline behind the ear to provide access to the underlying tissues.
A small amount of fat may be removed or sculpted. The platysma muscle and deep tissue will be tightened, repositioned, and lifted. Excess skin will be tailored and the incisions closed with sutures.
What Is Neck Lift Recovery Like?
A light compression dressing is placed and patients are discharged home on the day of surgery. Your surgeons will see you the following day to remove the compression dressing and examine healing. Staples are removed after 10 to 12 days. You can minimize swelling and bruising with rest and cool compresses. Initial bruising and swelling will fade over the next 2 to 3 weeks. After 14 days of recuperation, you can typically return to your usual daily activities, and your early neck lift results will be visible.
More Aesthetic Options
Since laxity in the lower face is typically addressed by a facelift, Dr. Garcia and Dr. Surowitz will discuss the specific benefits of a facelift (which also includes necklift) versus neck lift alone. Additional procedures such as blepharoplasty (eyelid surgery), chin implant, and brow lift are commonly performed in combination with a neck lift or facelift.
Request Your Consultation
If you would like to meet with our Charlotte neck lift specialists to discuss what is possible for you, please request your consultation[/conslutation] online or call (980) 949-6544.
A Reputation Built on Results
I received a surgical procedure here at Dilworth Facial Plastics. It has been a very professional and...
Dr. Garcia and Dr. Surowitz are fantastic! Their staff is welcoming, kind, and always helpful. I could...
I had a scar revision on my face march 24th and currently in the process of healing the procedure was...